Newly-Built SM BF Paranaque to Open on November 29 [★]
November 26, 2013
I am so excited for this - a mall near our home!

Ever since news spread that that very old Mcdonalds branch at BF would be demolished and become an SM Mall instead, everyone in the neighborhood (well mostly me?) got thrilled. I never thought there would come this day that I would have the convenience of hopping into a mall a few minutes away from where I live. :D We were even guessing what the name of that branch would be (SM Sucat? Nah, there's already one named like that. SM BF Homes? Can be, but BF Homes is too large - it stretches across Paranaque, Muntinlupa, and Las Pinas. So where in BF Homes would this be located? This might confuse the people). Until finally one day, we went along the front of the building and the bold blue letters reading "SM BF Paranaque" was seen on the mall's exterior. So that's the name of the branch! :D
A few days more to go and the new branch of SM will be unveiled! It is scheduled to be opened to the public on November 29, Friday.
An artist's perspective on the final look of SM BF Paranaque.
The building looks almost like this already, except on the part of the walkway outside the building.
I still don't know what stores are actually in it, but this is what I have learned (google is your bestfriend *wink wink*) on what's in store for us there.
Not just one, or two, or three.. but SIX cinema houses! WOW! Going to the movies would not be the same for me again. I can watch last full shows without getting worried on how late it would be to travel back home. :D
uniqlo.com
munchpunch.com
This is so far what I have seen. I'm curious to know what more stores we could find in there!
[UPDATE] Here are some more of the shops!
Plains & Prints
facebook.com/plainsandprints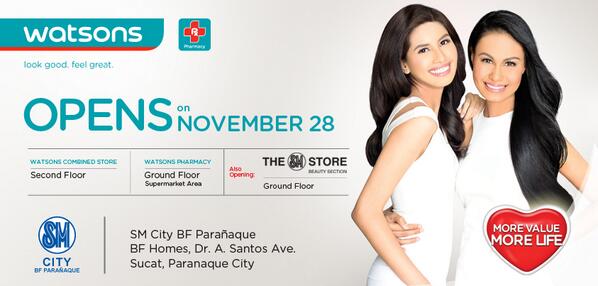 https://twitter.com/WatsonsPH
Read full article here. (wazzuppilipinas.com)
[UPDATE 11-29-13]
Other confirmed stores:
[as told by friends who already went there]
J.Co
Cafe Mary Grace
Burger King
Anyway, if you want to find out, go to the mall's opening on Friday! I'm sure SM has lots of surprises in store for its shoppers. For me, I have to patiently wait until the end of my work shift to go to the mall. T.T
It's payday weekend by the way. The mall would surely be crowded with people. :O
[UPDATE]
I've been to the mall myself. There are also National Bookstore, Starbucks, Giordano, Penshoppe, and Bench outlets there (these are all I could recall). The building's design is pretty neat indeed. :)
~o~
references: wikipedia.org
resources: facebook.com/smbfparanaque |
skyscrapercity.com