PH KPop Convention 5 - A Huge Success [★]
December 29, 2013
The Philippine KPOP Convention
was at its grandest form this year
as it has partnered with
Pulp Live World
to bring four KPOP artists to perform in the event - A.Cian, LC9, Lunafly, and Boyfriend. The convention was held at SMX Halls 1 & 2 from 10AM to 10PM on December 28.
banners draped around the venue
Free Magazines From Pulp!
All people who purchased tickets for the #KPOPCon5 got free back issues of Pulp Magazines! YAY.
This is also where they released the latest issue of the magazine which is a special Super Junior edition covering their
Super Show 5 in Manila last October
. They also sold back issues of Pulp magazine in the convention.
KPOP Merchandise Overload
As expected, the place was
packed
with fellow KPOP fans. The KPOP convention is the perfect place to buy lots of KPOP merchandise. Everyone was scurrying around the merchandise booths to check out some kpop items. Ah, I'm so tempted to buy lots of items. xD
Fanclubs Unite!
This is also the event wherein almost all KPOP fanclubs in the country come together to promote their kpop groups and reach out to fellow fans.
There were also standees of kpop idols scattered around the venue. :))
The standees of the handsome boys of CNBLUE. :D
Junsu standee comfortably sitting at the CassPH booth. xD
Taking a picture with the JYJ standees. YAY.
Second Stage - Makeup, Fashion and Language Classes
Since it was still early for Lunafly's performance over at the main stage (they are the group that I wanted to see perform), me and my sister went around first to check out the booths and the program at the second stage.
We missed the make-up session by
Marge Tan
of
kikaytrekkie.blogspot.com
. I have been wanting to see her because she is one of the beauty icons of Korean cosmetics I'm following online. :(( Oh well.
Fortunately, we were able to catch
RJ Roque
teach some tips on fashion.
Main Stage - Contests and KPOP Group Performances
When we went to the other side of the hall to the main stage,
A.Cian
was currently on stage doing photo ops with the fans.
Then after that, the
KPOP Dance Battle
started.
We left the venue shortly after that to grab some lunch. We returned in perfect timing to catch the performance of
Lunafly
!!!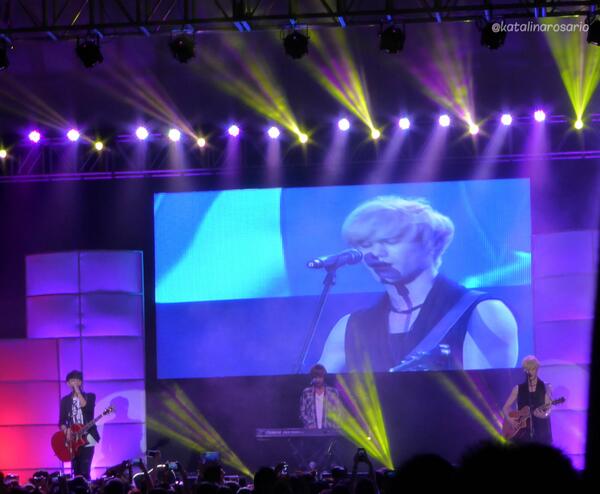 It's Lunafly on stage! Waaah!
These very talented boys sure know how to flatter their audience. They serenaded us with their suave voices while playing the guitars and the piano.
[I am creating a separate blog post about their performance. More details and photos of their stage soon! :D
UPDATE: Here's the link to the Lunafly stage at the KPOPCon. :D]
And then soon after, it was
Boyfriend's
turn to be on stage!
I was not able to see most of their performance on stage but I got to see them do the games prepared for the show. They were doing fanservice and laughing with all the games that they were doing on stage.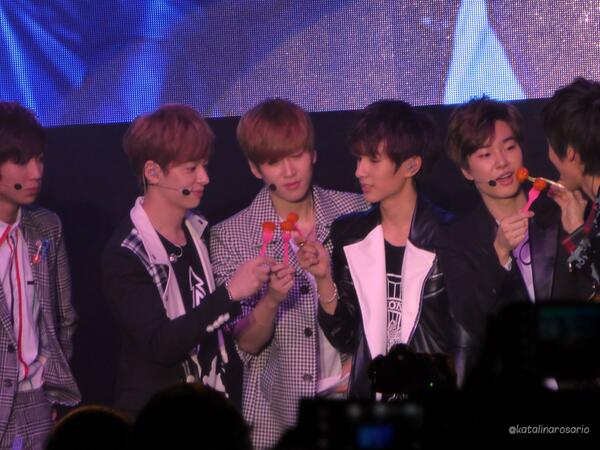 Boyfriend eating tokneneng. It looked like they really enjoyed it. Haha.
Miss Kring
did a very great job hosting the event. It's no joke to stand on that stage and facilitate this big event for almost 12 hours!
I am most amused by her wardrobe changes throughout the show.
I apologize because these photos don't give justice on how glamorous Miss Kring looked that night. :O The highlight of her hosting for me was when she danced
Whoops Kiri
with Boyfriend. :p
There was an open noraebang on the stage until 10PM but I was not able to catch it anymore. After seeing a bit of Boyfriend, I went by a friend's booth and bought these lovely kpop cupcakes!
Visit mintdebox for more wonderful cupcakes like these!
So aside from these cupcakes, I went home with these magazines too from Pulp!
I didn't buy much of the merchandise available there. Honestly, I feel too old already to be fangirling. Most of the fans there were students. Hahaha. But anyway,
I'm there for the music mainly
so I guess I'm still eligible to be fan, right?
It's a fun fun night! Too bad I was not able to see LC9. But maybe next time.
There were a lot of first-timer attendees, and based on what I have read on twitter, they all enjoyed being in the convention. Like them, I was very happy to attend the event. I am already yearning for the next one next year! ^_____________^
Congrats
+KpopCon Philippines
and Pulp for a successful event! :D
Check out below for more images of the convention
! :D